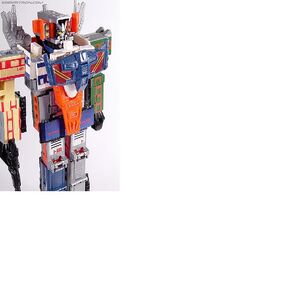 Raiden is when all 6 Trainbots turn into one giant robot.
Transformers: Generation 1
Edit
Raiden transports the Cybertronian warriors. He also destroys any enemies that are in his way. Prsonally, he is punctual, hates Devastator and wants to beat up Predaking. He appeared in 3 comic books and 27 cartoon episodes of Transformers.
Transformers: Warriors
Edit
On Transformers Warriors, Raiden was at Boston, Massachusetts to stop the Decepticons. Shouki, one of the Trainbots says that was the best battle ever! Raiden punched Devastator's face when Scarem suddenly retreated from battle. Yukikaze likes this battle also. Raiden was happy when the Decepticons retreated.