Victory Saber is a jet/lion in three series.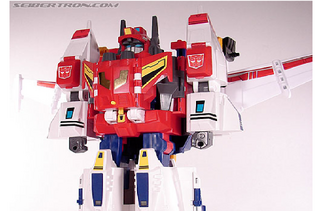 Transformers: Victory
Edit
Placed in dire straits by the Destrons' tremendous assult, Star Saber powers up with Victory Leo's strength. Far stronger of mind and body than he was before, in many ways he can be called the best one of Cybertron's successive Supreme Commanders.
Robot Masters
Edit
The Victory Saber Transformers: Victory toy.
Transformers: Warriors
Edit
On comic 35, Star Saber gets wounded by Galvatron and powers up with Victory Leo and turns to Victory Saber. Galvatron gets wounded by a single punch on top of his head from Victory Saber.